Dogodek
---
Season Opening w. Mild 'N Minty 5th anniversary 4 mesece nazaj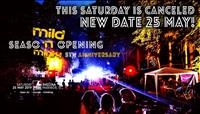 Kdaj: 25.05.2019 - 26.05.2019 ob 02:00
Naziv lokacije: Pruh
Kje: Ciringa 9, 2201 ZG.KUNGOTA
Cena: 10,00 €

Season Opening w. Mild 'N Minty 5th anniversary
Indeed 5 years on the row with Mild 'N Minty
Creating events from sunny Adriatic coastline all the way up to the Northern seas at dance music metropolis Amsterdam. Last three years among other projects as an engine for the electronic events at Pruh where we start this year Official Season Opening.

A Music story supported by homonymous Radio show on TM Radio (Tribal Mixes Radio) from Chicago, many venues, promoters, local artists and the ones from all over Balkan peninsula over the years.

This year with the performance of a friend coming for the first time in his life to Slovenia. A Belgian artist of Slovenian and Greek roots will celebrate this Anniversary with us along the Fresh local names and Mild 'N Minty Residents.

Join:US on this unique and sound recognized journey at most exclusive - Open Air - venue on both side of the hills.
- stone quarry - Pruh.
11:00 PM - 12:30 AM
(overnight)
Avtor objave (organizator):
LOSI, društvo za organiziranje lokalnih aktivnosti
Deli na Facebook
---